ENVISOL's R&D department was established to conduct research applied to product design, and to methods and procedures that address environmental problems, in compliance with the requirements inherent to work on polluted sites and soils. ENVISOL therefore offers industry-customised solutions in terms of means, organisation and scheduling.
The issues relating to site expertise on polluted sites and soils stem from several disciplines. For R&D projects, ENVISOL creates interdisciplinary consortia that include internal engineers and researchers, and outside public and private partners who specialise in each discipline, working as a team on various problems to make recommendations on how to solve them.
Based on ENVISOL's know-how and extensive field experience in managing polluted sites and soils, the R&D department has identified research requirements, key parameters, prospecting visions, as well as methodological, technological, organisational and socio-economic blocking points that must be overcome. Within the R&D department, our projects therefore follow two main research directions. The first direction is to confirm the environmental matrix diagnosis and the categorisation of pollution sources in the context of polluted sites, by offering new tools, methods and strategies that are reliable, robust and efficient. The second direction is the development of tools/interfaces and of modes allowing to display and interpret the data stemming from all the available information pertaining to polluted sites. These tools are to serve as decisional aids for various stakeholders (site managers, industries, service providers, engineering offices).
Five research themes are currently being developed by our R&D department: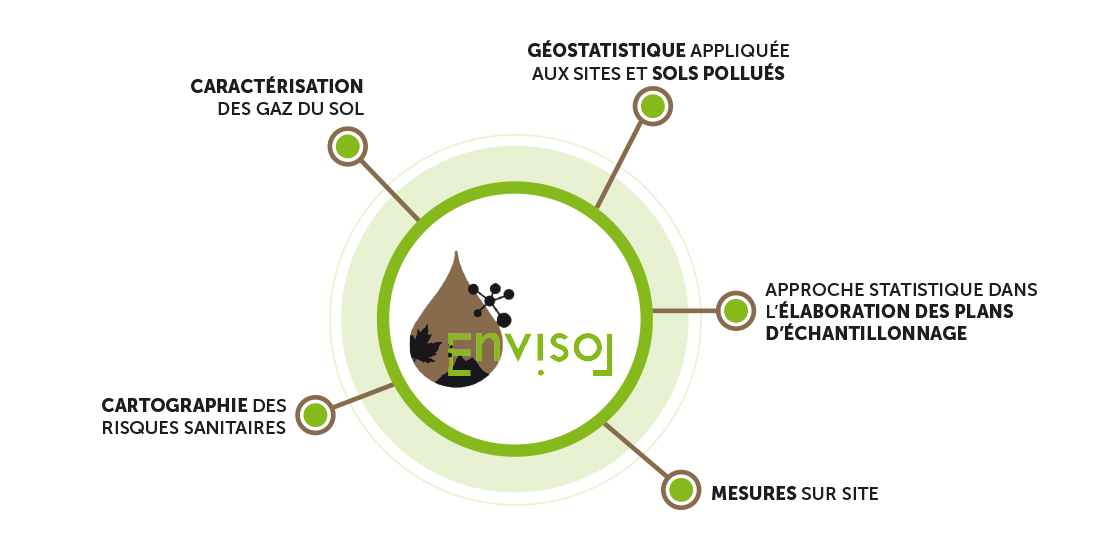 In 2015, ENVISOL was the initiator or partner of two collaborative R&D projects conducted for the purpose of national programs (ADEME, ANR, Ministry):
The CONTRASOL project, in collaboration with the Ecole des Mines in Paris – Winner of the call to tender for the GESIPOL project by ADEME – Geostatistical evaluation of highly contrasted soil pollution.

The COPACOV project in collaboration with EXPLORAIR – funded by ADEME – Sampling and analysis method for the investigation of soil pollution VOCs.
Since 2012, ENVISOL offers an innovative method for the geostatistical analysis of polluted sites and soils aimed at creating 3D models, and at refining the assessment of contaminated soil volumes.
INNOVATION – GEOSTATISTICS USED IN POLLUTED SITES AND SOILS
For the purpose of studying soil pollution, ENVISOL uses geostatistical processing in order to map and assess the size of pollution plumes. The tool enables to model the behaviour of concentrations based on their location in the site, in various spatial directions.
It has largely been demonstrated as a useful tool for polluted sites and soils. In order to perfect its use, ENVISOL has trained all of its team to use geostatistics applied to polluted sites and soils.
To ensure we keep abreast of innovating techniques in this field, several ENVISOL employees take an active part in geostatistical research and innovation projects. The main projects, completed or ongoing, are presented below:
ENVISOL has recently (2015) taken part in a project called « Using geostatistics to improve the determination of volumes of soils polluted by incinerator ashes » with the university of Quebec.

ENVISOL is currently taking part in a project called « Geostatistics for Remediation Optimization » with the Interstate Technology & Regulatory Council (ITRC). The aim of the research is to create a guide that explains, raises awareness and trains potential users (engineering offices, communities,…) to learn how to use geostatistical methods to assess the optimisation opportunities in polluted sites and soil rehabilitation projects. Many participants are actively involved in the project: academics, researchers, engineers, companies…

In 2015, the CONTRASOL project was launched with the Ecole des Mines in Paris (ARMINES laboratory) – Winner of the call to tender for the GESIPOL project by ADEME – Geostatistical evaluation of highly contrasted soil pollution.

INTERNATIONAL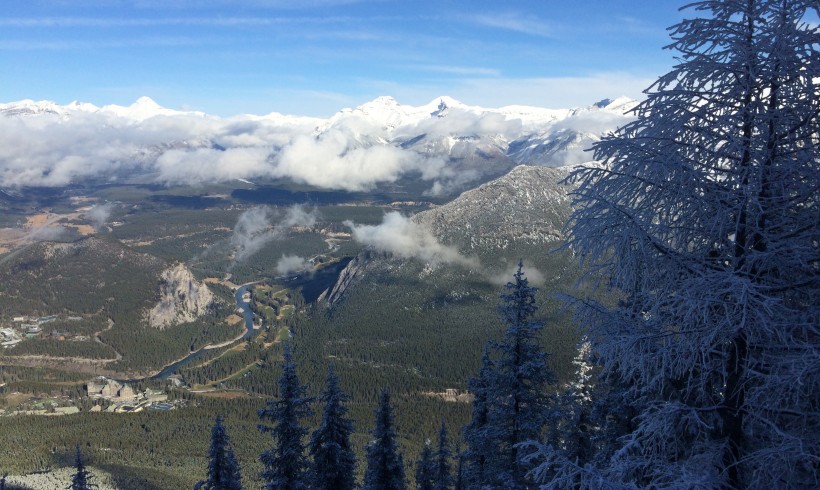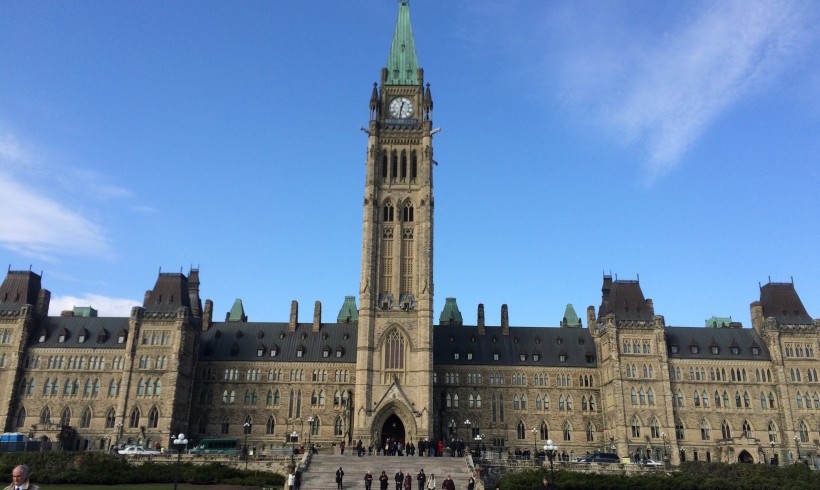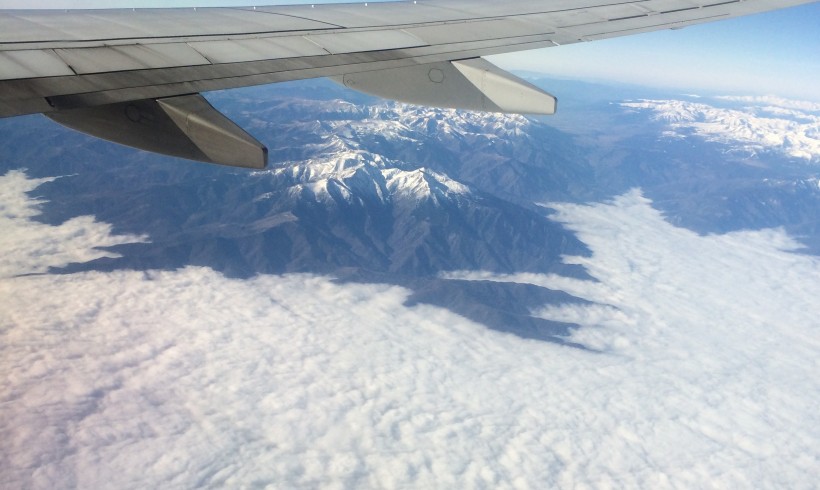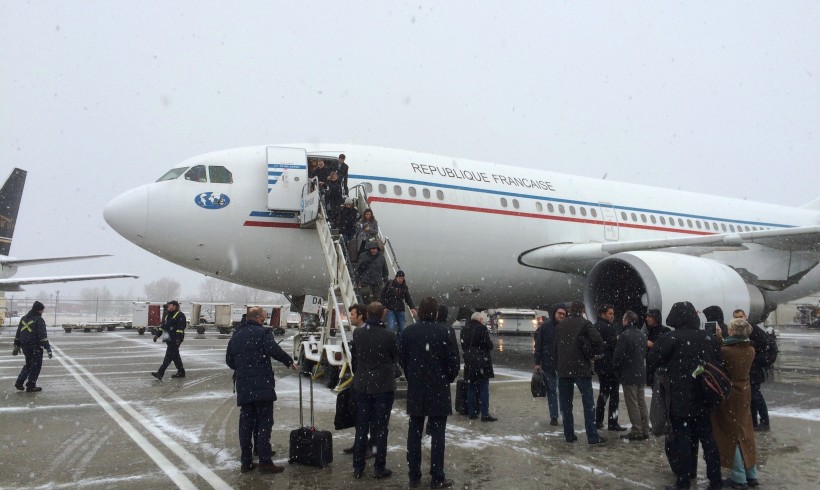 ENVISOL, open to the world
As a young SME created in May, 2009, in Isère, Envisol has taken various opportunities to develop its structure and to extend its reach internationally, which is a integral part of our development strategy.
Creation of our first international subsidiary, Envisol Canada Inc.
Since March, 2011, the date of our first prospecting mission in Canada, the project was organised and implemented through the creation, in October, 2012, of Envisol Canada Inc. our first foreign subsidiary established in Montreal.
The purpose of this new entity is to share with our customers (land owners, contractors, industries, municipalities, ministries) the innovating part of our activities, i.e. the acquisition and processing of environmental data in real time (using our geostatistical tools, LIF, geophysics, etc.) to refine the assessment of polluted soil volumes, and therefore, to facilitate the rehabilitation of former industrial areas that have been abandoned. The idea is to bring our expertise to the North-American market, where it is still non existent, and to collaborate with consultants specialised in the field of polluted sites and soils.
After three years of activity, the results are very encouraging for Envisol Canada Inc. In addition to projects developed with important contractors (AMT, ESSO, Hydro-Quebec, the cities of Montreal and Quebec, the ministry of the environment, SANEXEN etc.) Envisol Canada is developing innovating tools in partnership with Canadian universities (polytechnique Montreal, INRS-ETE in Quebec). We are also members of various work groups and environmental associations (réseau Environnement etc.).
Finally, since 2014, in the context of its development in North America, Envisol is a member of the US network Interstate Technology & Regulatory Council (ITRC) that brings together several environmental stakeholders (States, universities, engineering offices) in the US. Envisol is involved in a think-tank working on the use of geostatistics to optimise the rehabilitation of polluted sites and soils. The goal of the committee is to draft a manual for (private and public) contractors, to encourage this approach in rehabilitation projects.
Envisol has taken part in the drafting of the manual.
Envisol also took part (and will continue to do so) as speaker in several of the field's most significant events:
2013 and 2014 conferences on soils and groundwater,

Remediation Technologies Symposium (Banff, Alberta) in 2013 and 2014,

Environmental technology fairs of Quebec 2014,

Interstate Technology & Regulatory Council (ITRC) Spring Meeting 2014,

Americana (Montreal), March 2015.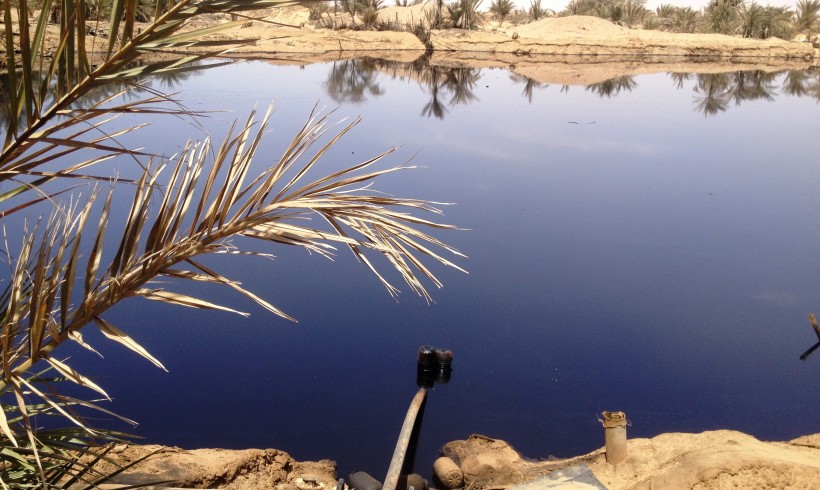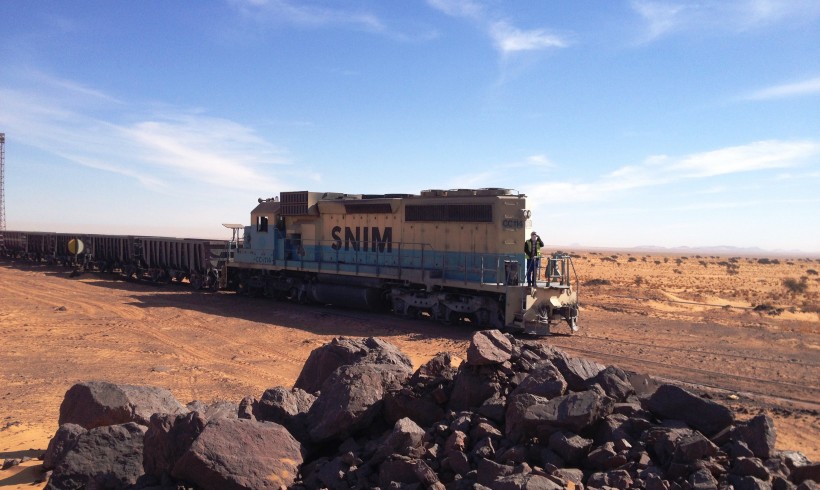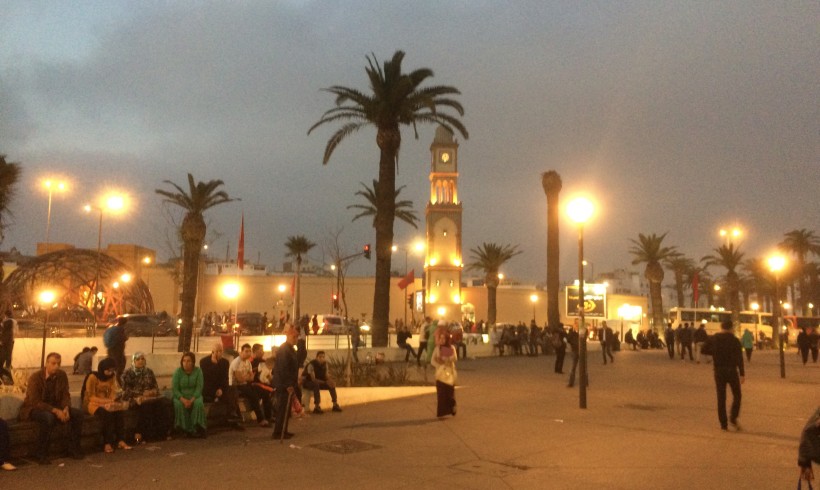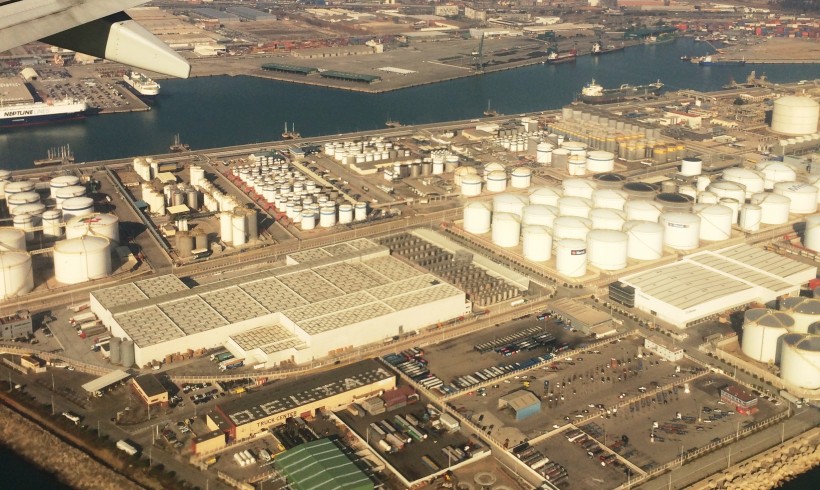 Since the launch of our export program, we have turned towards other countries such as Nigeria, Mauritania, the Czech Republic, Japan, Romania and Colombia:
Turkey: a consultant is currently working on the Turkish market: Identification of potential partners.
Prospecting missions with the identification of potential partners: seven companies interested in working with us in Istanbul and Ankara (Geotek, Calik/Lidya, Nanotera, Ore Mineral, Arcasoy, Dokay and Socomex)
Spain: presence on the market (missions completed with Ubifrance, Réseau Appel – Eco-entreprises de Rhône-Alpes, Lyon Latitudes, an association promoting companies from Lyon in the context of Lyon region partnerships). Identification of business opportunities, prospects and partners.
Mauritania: We have responded to a call to tender issued by a public-owned Mauritanian company (SNIM) through our partnership with a Mauritanian engineering office.
Czech Republic, Germany and Spain: We have worked in those countries for one of our French customers who was acquiring sites there.

PARTNERS








CERTIFICATIONS

Furthermore, in 2012, Envisol was certified under the NFX 31-620 framework governing polluted site and soil management activities, domain A (categorising), and in 2015 we renewed and extended our certification to the domains A and B (project management). Only 30 companies have achieved this certificate (out of 200 in the sector).
Certification of the services of providers in the field of Polluted Sites and Soils – Domains A & B
In addition, since November 2014, Envisol is busy implementing the MASE certification. The final audit is scheduled for March 2016.